Supporting children and young people bereaved by suicide
Resources
Suggested Readings
Luna's Red Hat
by Emmi Smid
This beautifully-illustrated storybook is designed as a tool to be read with children aged 6+ who have experienced the loss of a loved one by suicide.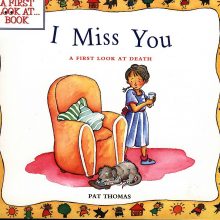 I miss you: a first look at death
by Pat Thomas
This reassuring picture book explores the difficult issue of death for young children. Children's feelings and questions about this sensitive subject are looked at in a simple but realistic way. This book helps them to understand their loss and come to terms with it.